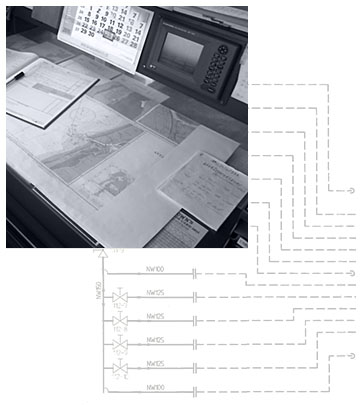 Bridge

marine equipment and spare parts
Nautical publications
Radio equipment
Maps
IMO labels
Pyrotechnical equipment
signalling flare, signal rockets etc.
Safety equipment
breathinequig apparatus, life jackets/lifebuoys
Chemical, gas & fire protection
Chemical & gas protection suits, fire extinguishers, gas detectors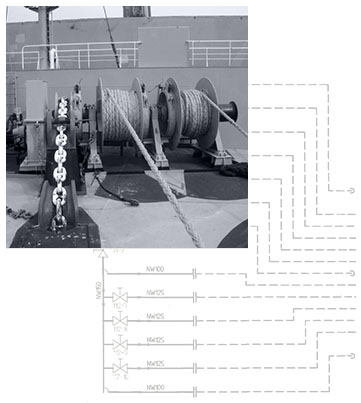 Deck
marine equipment and spare parts
Anchors
Chains, container lashings, fenders, ladders, nails etc.
Wire ropes
Vent heads
Air tools
pneumatic polishers, air drills, air grinders etc.
Painting equipment
paintbrushes, gloves, electrodes, etc.
Welding equipment
electric welding equipment, electrodes, etc.
Welder's protective items etc.
Pipes & tubes
aluminium tubes, copper tubes, PVC tubes, stainless steel pipes etc.
Controls & measurements
thermostats, temperature, transmitters, pressure gauges etc.
Deck cleaning liquids
Clothes
working clothes, boiler suits, jackets, refrigerator coats, boots & shoes, gloves etc.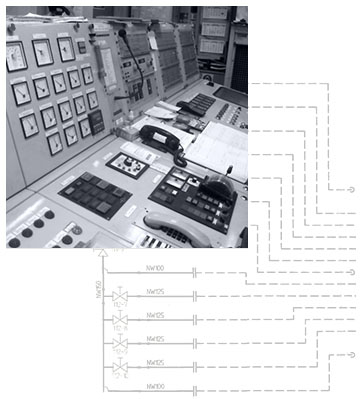 Engine room
marine equipment and spare parts
Bearings
SKF, FAG, FŁT, NTN, SNR etc.
Valves
ball valves, butterfly valves, check valves
Pipes
pipe holders, pipes connections etc.
Hydraulic equipment
hydraulic fixtures and fittings, hoses, cylinders, flow control valves etc.
Electrical
contractors, time & electromagnetic relays, transformers, micro switches, cables etc.
Pneumatic equipment
screw fittings and connectors, hose couplings, filters, pressure switches
Auxiliary engine's spare parts
SCANIA, VOLVO PENTA
Packing & jointing
O-rings, rubber cord, simmering, oil seals, mechanical seals, V-belts etc.
Various types of oils
M/E, LUB oils, hydraulic oils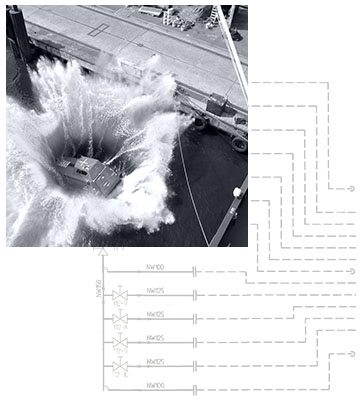 Additional services
Launching appliance of rescue boat and free fall boat service
Fire fighting equipment service
Electric, electronic, automatic service
Hydraulic service
Diesel engine repairs
Steel and fitters repairs
Navigation equipment
Ultrasonic test of hatch covers
Lifesaving equipment service
Constant care of ship's maintenance and technical condition
---
Note!
If you need something that you did not find in the above offer please contact us! We will do our best to help you.